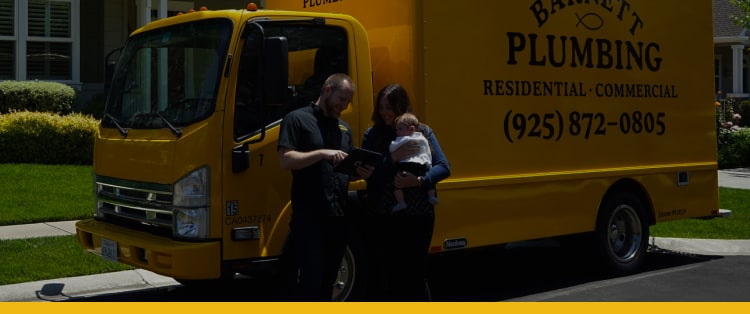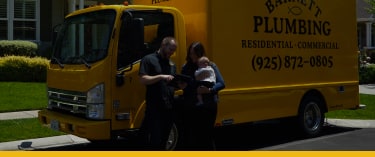 Water Heater & Plumbing Services in Dublin, CA
You rely on your water heater to deliver the hot water you need throughout the day. If there's an issue with it, it can seriously disrupt your routine. Count on Barnett Plumbing & Water Heaters for the water heater services you need in the Dublin, CA, area.
Barnett Plumbing brings nearly two decades of expertise to every job. From small fixes to major overhauls, we can do it all. Our team works on tankless, tank-style, and hybrid water heaters, and we offer general plumbing services like faucet repairs, water line replacements, and more.
For expert water heater and plumbing services, count on Barnett Plumbing. Contact us online or call 925-872-0805 to get started.
Water Heater Installation & Repair
At Barnett Plumbing, we strive to ensure that every customer has a reliable water heater in their home. We work on all models of water heaters and install Bradford White water heaters, some of the best available.
We provide comprehensive water heater services, including:
Tankless Water Heater Services
Tankless water heaters are a popular, modern option for heating your water. These units offer a variety of benefits, including:
Lower energy consumption
Faster water heating
Smaller space taken up by the unit
We can handle repairs, replacements, new installations, and maintenance for all models. Trust your tankless water heater needs to our professional plumbers.
Heat Pump & Hybrid Water Heaters
If you're looking for ways to make your home more energy-efficient, consider switching to a heat pump water heater. These units use electricity to heat the water for your home and are some of the most efficient water heaters on the market.
The trained technicians at Barnett Plumbing know how to work on heat pump water heaters, also known as hybrid electric water heaters. Trust us to provide the repairs or replacements you need.
Make sure you always have access to hot water. Call 925-872-0805 today or contact us online to schedule water heater services in Dublin.
Our Residential Plumbing Services
At Barnett Plumbing, we work hard to make sure your residential plumbing system is in tiptop shape. Our plumbers have the right tools and practice industry-best techniques to perform the best:
Kitchen plumbing services
Bathroom plumbing services
Water heater services
Leave all your plumbing needs to a team of true experts. Contact us online or call 925-872-0805 to schedule plumbing services at your Dublin-area home.
Call Barnett Plumbing for Water Heater & Plumbing Services in Dublin, CA
Since 2005, our team of expert plumbers has been working hard to resolve all plumbing issues for our customers. There's no plumbing issue we can't handle, big or small. We have the right tools and expertise to uncover the root cause of your plumbing problems and provide a solution that fits your situation.
When you need plumbing services of any kind, turn to a team with experience.
Call 925-872-0805 today or contact us online to schedule plumbing or water heater services.
DUBLIN RESIDENTIAL SERVICE LIST
DUBLIN RESIDENTIAL PLUMBING
Schedule an appointment and let one of our trained technicians assess and repair your plumbing issue.
Water heater installation & repair

Toilet installation & repair
Sewer line installation & repair

Water line installation & repair
Faucet installation & repair

Pressure regulator installation

Garbage disposal installation