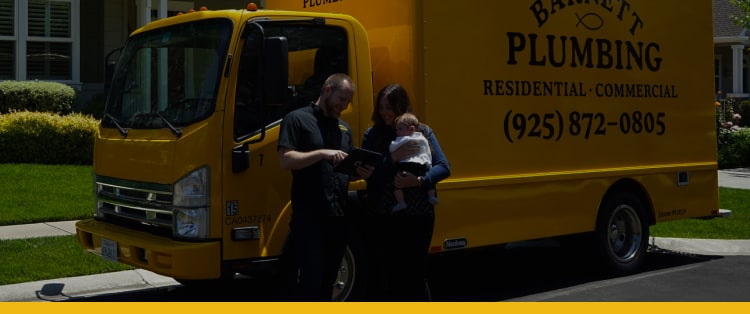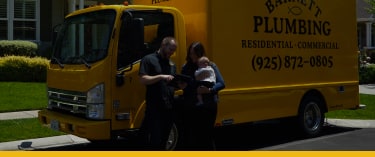 Water Heaters in Newark, CA
Newark's preferred water heater repair & water heater installation service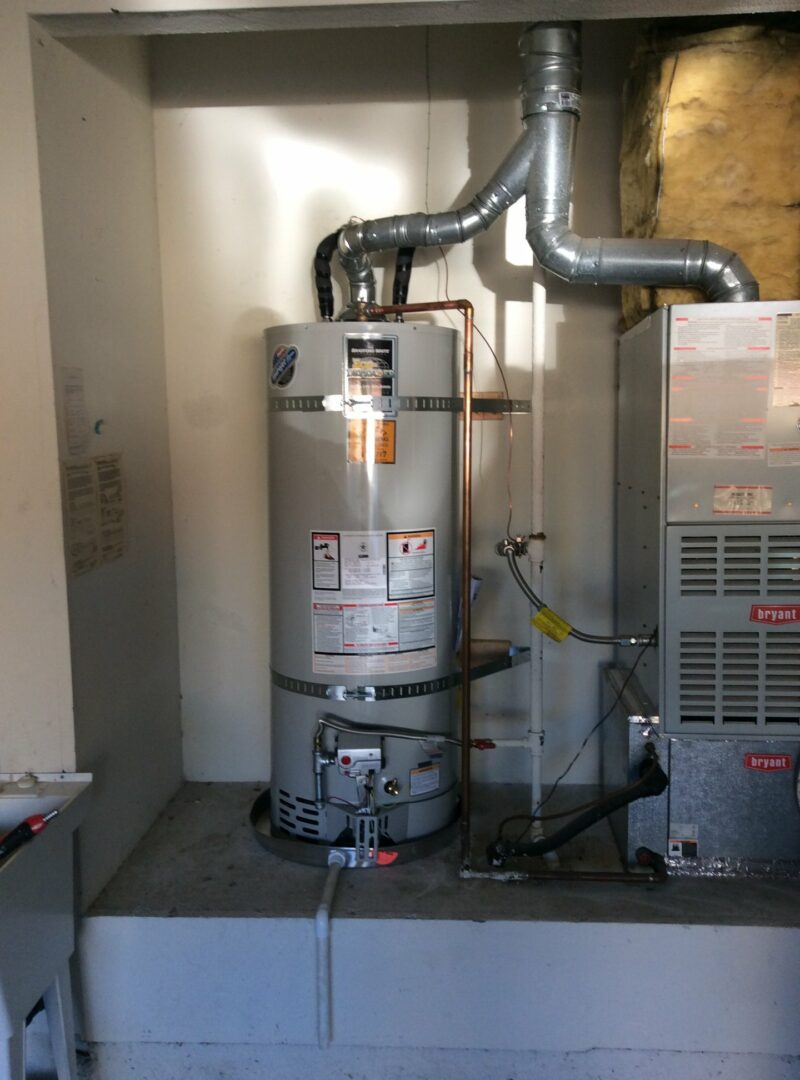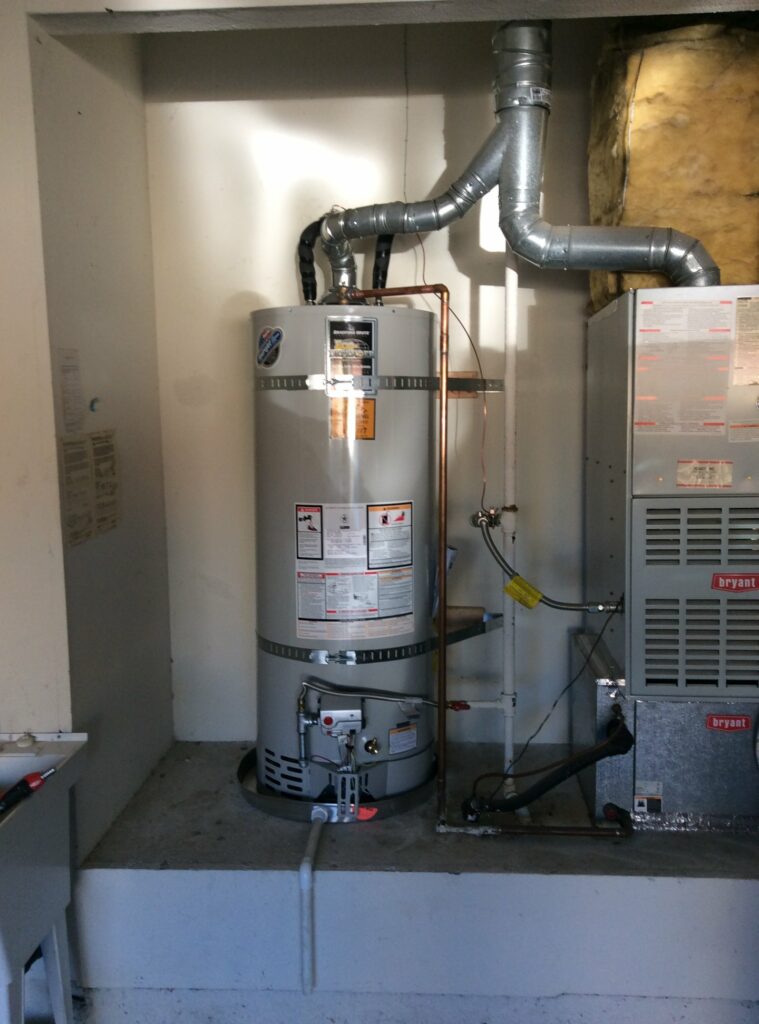 Take longer hot showers without paying more in utilities. Switching to a tankless water heater or a heat pump water heater can save you in energy costs, even if you're using the same amount of hot water. With California's rebates on heat pump water heaters, choosing one is more affordable than ever. Barnett Plumbing & Water Heaters has expert, friendly staff that can help you get a new heat pump water heater for less. We also offer other water heater services in Newark, CA.
The Heat Pump Water Heater Specialists
Heat pump water heaters are the newest development in water heater technology, and they have a lot to offer for the average homeowner.
Benefit from California's Water Heater Rebate
Usually, the problem with buying more energy-efficient plumbing appliances that will save you money in utilities is that they will cost you more upfront. Not so with heat pump water heaters. Thanks to California's rebate program, where the typical family may get $3,800 worth in rebates and low-income families get even more, head pump water heaters and gas water heaters are comparable in price. That makes switching to the more energy-efficient technology a simpler decision.
You can save money upfront, and you'll save more every month with a heat pump water heater. While a heat pump water heater uses geothermal energy to increase your water's temperature for much less energy expenditure, they typically come with a pretty big downside: they take much longer to recharge. The brilliant part of heat pump water heaters is that they combine this technology with a conventional tanked water heater, so your unit can switch into standard mode when it needs to heat water in a hurry. That way you get the best of both worlds and the downsides of neither.
The result is that your monthly utility bills should get smaller, thanks to a better energy factor.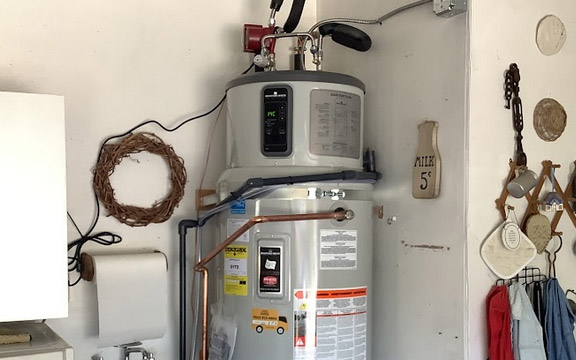 Benefits of Heat Pump Water Heaters
The reduced upfront cost of heat pump water heaters is not the only benefit. There are many reasons to choose a heat pump water heater, including:
Our heat pump water heaters are manufactured by Bradford White, so you can also enjoy superior performance, long equipment life, and generous warranties. It's one of the best types of water heaters you can buy, built by one of the best manufacturers in the industry.
Your water heater is one of the most important appliances in your home, and getting a reliable one will save you time, money, and a lot of headaches down the road.
Water Heater Replacement & New Installations
Our team is fully equipped and prepared to install a wide variety of water heaters depending on your family and property's unique needs. Let us help you choose from:
Gas tanked water heaters
Electric tanked water heaters
Tankless water heaters
Heat pump water heaters
Point-of-use water heaters
And more
For new installations, we only install the highest quality appliances available, from the most dependable manufacturers in the industry. All of the hot water heater models we install have been carefully chosen based on their performance, reliability, energy-efficiency, ability to repair, and warranties offered. That's why we only install high efficiency water heaters that we would put in our own homes. Learn how you can save money and save energy on a new installation today.
How Big of a Water Heater Do I Need?
We recommend sizing heat pump water heaters a little larger than you would a typical natural gas or electric tanked water heater. For example, if you're used to a gas water heater with a 40 gallon storage tank, you'll probably want 65 gallons or more out of your heat pump water heater. If you're used to a 50 gallon water heater, 85 gallons is recommended.
Heat pump water heaters operate differently than you're used to, and this extra capacity means you won't be suddenly left waiting for water to heat.
The best way to size a new water heater, however, is to speak with a dependable plumber. Our plumbers will be able to assess your home's day to day hot water needs and pick a model that is up for the task. They can also determine if your need new venting or utility lines for your new heater, and how that will impact the overall cost.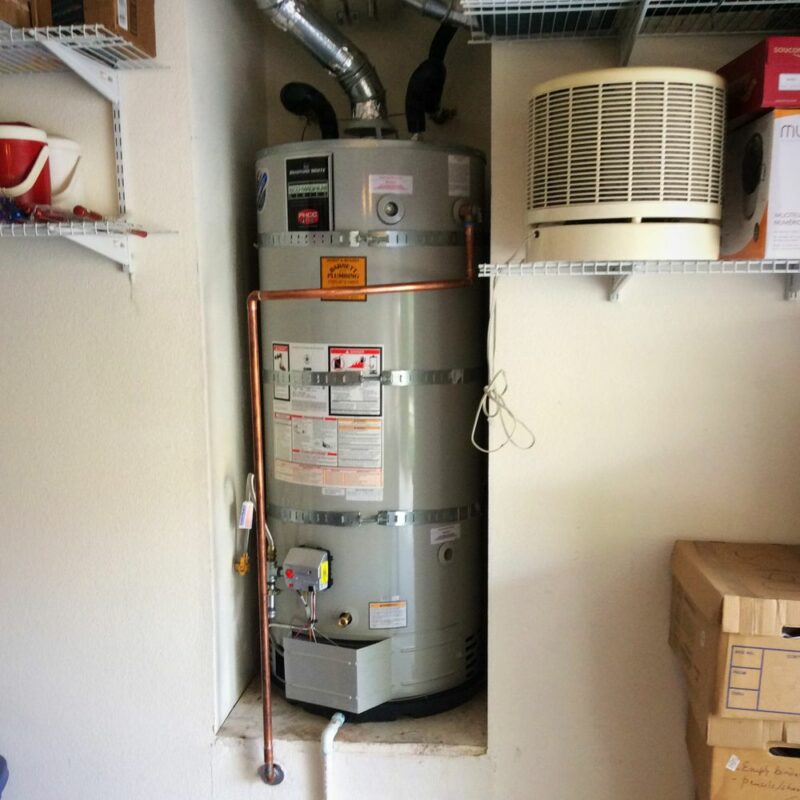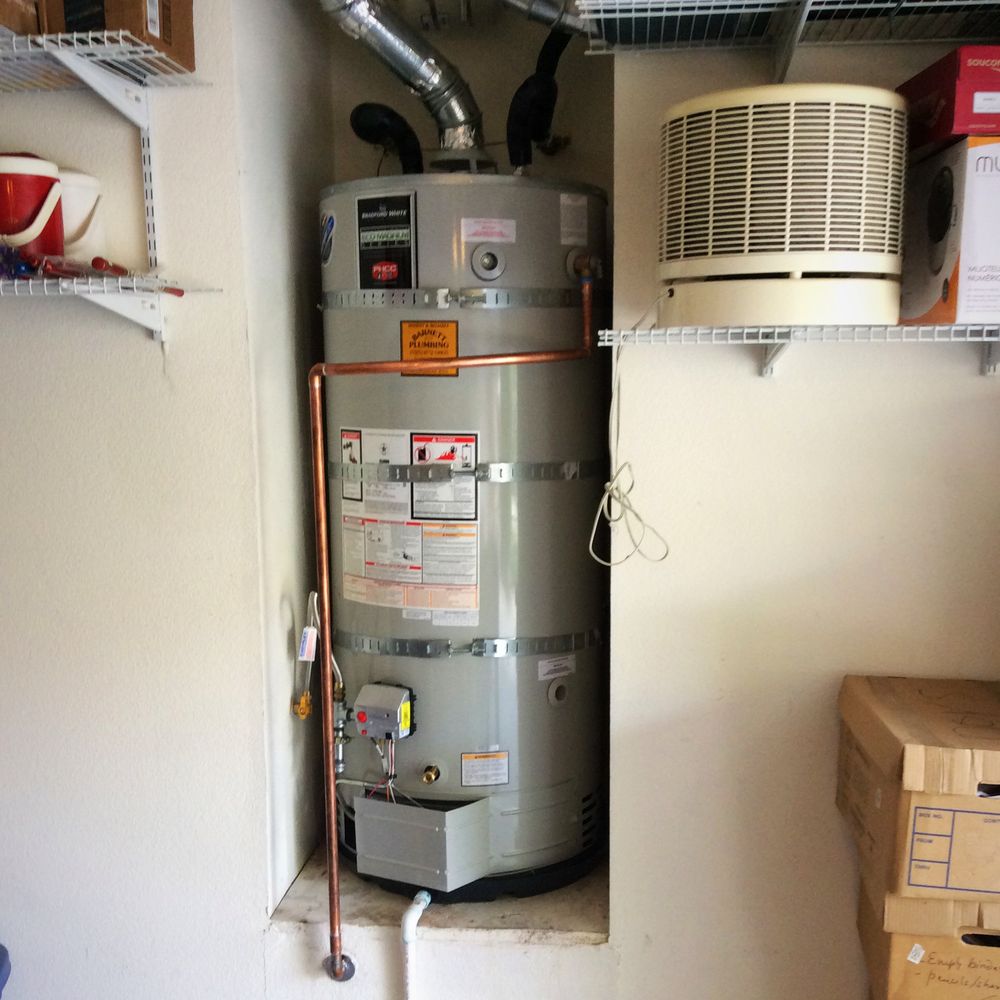 Other Water Heater Services
Barnett Plumbing & Water Heaters also offers all of the services you need to keep your water heaters running well in Newark. For both tankless water heaters and heat pump water heaters, we offer:
Descaling: Removing mineral build-up from a tank-style water heater is one of the most important ways to extend its life and avoid leaks. Tankless style water heaters can also benefit from descaling.

Repair: Inspecting and repairing small issues with water heater is important to keep it operating at peak efficiency, saving you in utilities and preventing those issues from becoming serious. Repairs are, of course, also important when your water heater isn't working or has other major issues.

Maintenance: Regular maintenance will preserve the life of your water heater, helping you put off expensive replacement costs.

Replacement: Whether you need to replace the anode rod in the tank to prevent corrosion or you need to replace the whole unit, we can help.
The Only Plumber in Newark with Temporary Water Heaters
What happens when your new water heater takes a week to arrive?
With any other plumber in Newark, you would be left without hot water in the meantime. With Barnett Plumbing and Water Heaters, we can install a temporary water heater to immediately restore hot water, even before your new permanent unit arrives. That means life can get back to normal just a little bit faster.
"I highly recommend Barnett Plumbing. We had a couple of issues to take care of and we were able to get a same day appointment. Their technician, Matt, was punctual, cordial, went to great lengths to explain what he was doing and most importantly got the job done in a timely fashion!"

Newark's Leading Water Heater Repair Team
Other water heater specialists in Newark may pressure you into buying a new water heater before you need one, but not us.
At Barnett Plumbing & Water Heaters, our first priority is to serve you. That means providing smart, affordable options for water heater repair, instead of pushing for high-pressure sales tactics. It's just one more thing that sets our team apart.
Call us for quick water heater repair service if you experience any of the following:
Pilot light or burner won't stay on
Pilot light or heating element won't turn on
Water heater short cycles
Water heater won't shut-off
Water doesn't heat / no hot water
Water heats inconsistently
Heating water takes too long
Hot water doesn't reach a specific faucet
Water-heating ability diminished
Hot water has discolored appearance from sediment build-up
Hot water has a bad smell
Water heater tank is leaking
Faulty gas line
Cracked heat exchanger
Loose valves
Water heater is making excessive noise
Water heater doesn't work consistently
Hot water not reaching specific appliance
Hot water runs out too quickly
Water temperature doesn't respond to thermostat changes
Faulty pressure relief-valve
Leaky drain valve
Broken or damaged water heater vent
We Service All Major Brands
AO Smith
Bradford White
Kenmore
Rinnai
Navien
AO Smith
Rheem
Bosch
Noritz
American Standard
Ecotemp
State
Ruud
American Water Heaters
And more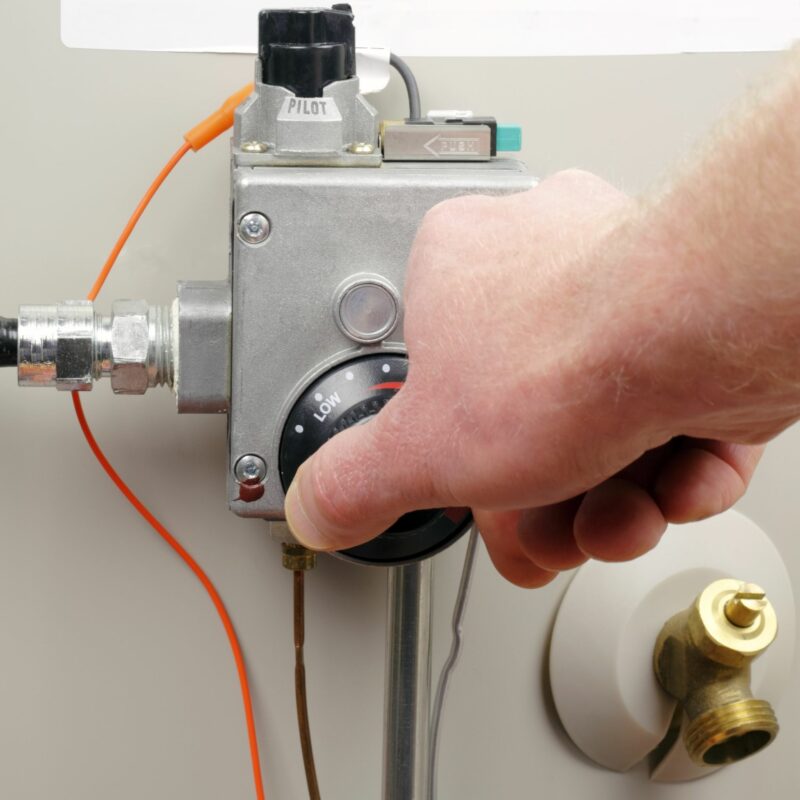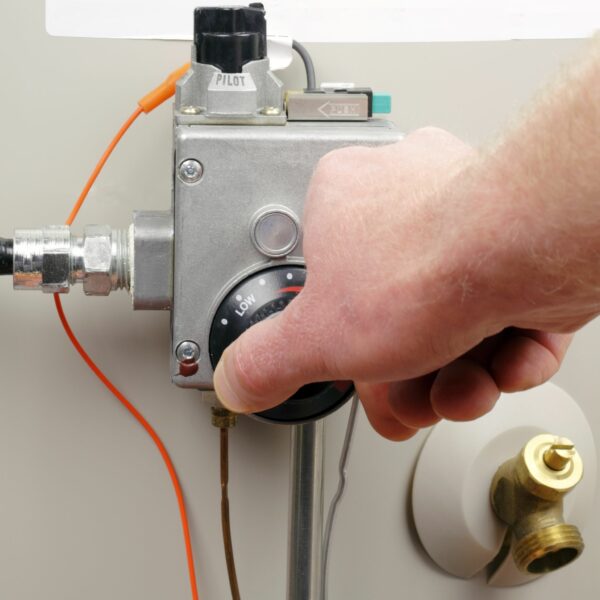 Our Plumbers Can Handle It All
Our team is fully prepared and equipped to work on virtually any kind of water heater, including:
Natural gas water heater models

Electric water heater models

Tank water heater models

Tankless water heater models

Commercial hot water heater models

Point-of-use water heaters

And more
Why is My Water Heater Leaking?
Leaks are one of the most common issues you can run into with a water heater. There are many reasons a water heater might leak, including a bad pipe connection, loose gaskets, a damaged drain valve, a faulty T&P valve, tank corrosion, and more. It's also easy to mistake a different kind of water buildup for a water heater leak, including condensation or a nearby leaking washing machine.
Since there are so many different ways a water heater can leak, it's best to call a plumber at the first sign of trouble. Our technicians can determine the exact cause and location of your leak, and more importantly, find out if it makes more sense to repair or replace the unit. For example, a cracked tank that leaks from the bottom usually requires a replacement, while an inlet connection that's leaking from the top is a relatively quick fix.
Don't Forget to Flush Your Water Heater
If you're like most homeowners, flushing your water heater probably isn't the biggest item on your to-do list. But without flushing your water heater every couple of years, sediment builds up, the pipes clog up, system efficiency goes down, your water starts looking cloudy and gross, and your water heater starts breaking more often.
The good news is that our water heater flushes are extremely fast and very affordable. Our technicians can descale most water heaters in an hour or less, and you'll notice the difference immediately.
Call now to learn more or to schedule your first service.
Why Call Barnett Plumbing & Water Heaters?
Exceptional service – Our service team receives ongoing training to make sure that our customers are always left happy. Our responsive call staff, courteous field crew, and dedication to make things right, no matter what happens, sets us apart.
Honest and reliable service – We offer clear an up-front pricing for all of your water heater needs, so you'll never be blindsided by an inflated bill.
A golden reputation – We are five star rated on Yelp, Google, and virtually every review site. We welcome all of your feedback.
Deep experience – Our plumbers are trained on virtually every brand and configuration of water heater, so it's hard to surprise them.
We come equipped – We travel using meticulously stocked work trucks that contain all of the necessary parts for a wide variety of water heater repair needs. That means less time is spent waiting for more parts to arrive, and your life can get back to normal just a little bit faster.
We offer temporary water heaters – We are the only water heater company in Newark that offers temporary water heaters, so we can restore your hot water before your permanent water heater even arrives.
Locally owned and operated – We are headquartered in Livermore and purposely keep our service area small to provide better service. Hiring a locally-owned company helps keeps your tax dollars local and your community strong.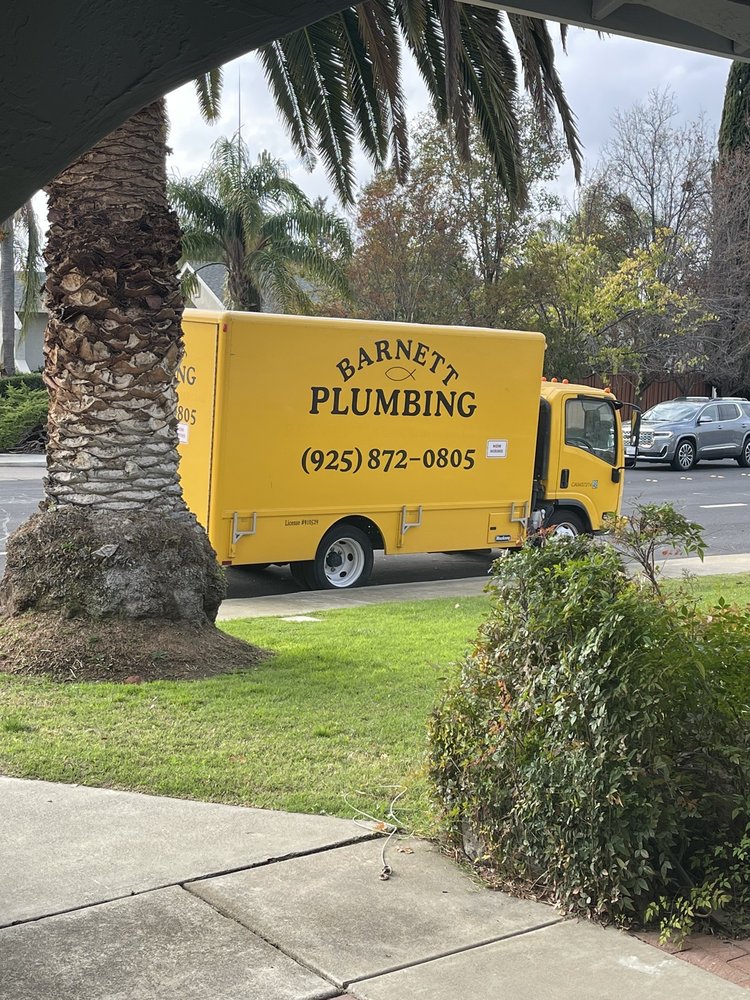 "I wanted to say a special thank you to Seth, Alberto, and Brandon. My fiancé and I checked 4 places to match water heater prices, Barnett Plumbing was very attentive to understand our needs. They were not pushy or salesy either, they were inclined to safety and being completely transparent about what was necessary in our water heater installment.
They were on time, and even helped us with additional plumbing that we had to get fixed.
To Seth, Bellal and I are super thankful that you helped us quickly and clearly!"
Reach Out Today
Barnett Plumbing & Water Heaters is the professional, responsive and smart team that you need for all of your water heater services. We'll inspect your unit, diagnose its issues and let you know if you'd be better off repairing or replacing it. We offer new installations, maintenance, and all of the services you need to keep your water warm.
Contact us for water heaters in Newark, CA, 94560.