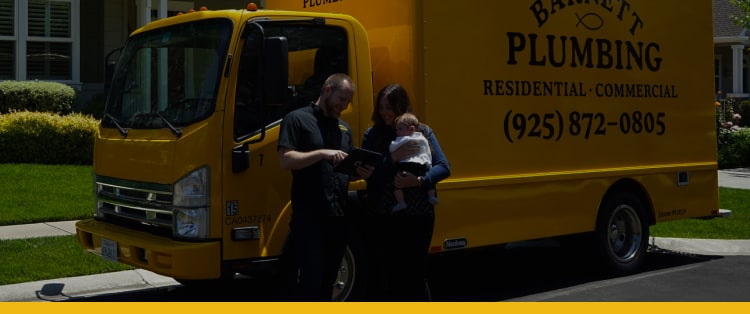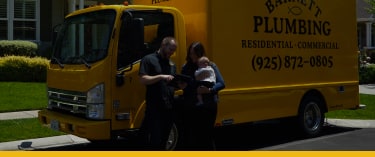 Call Barnett Plumbing & Water Heaters for All Your Water Heater Needs in Milpitas, California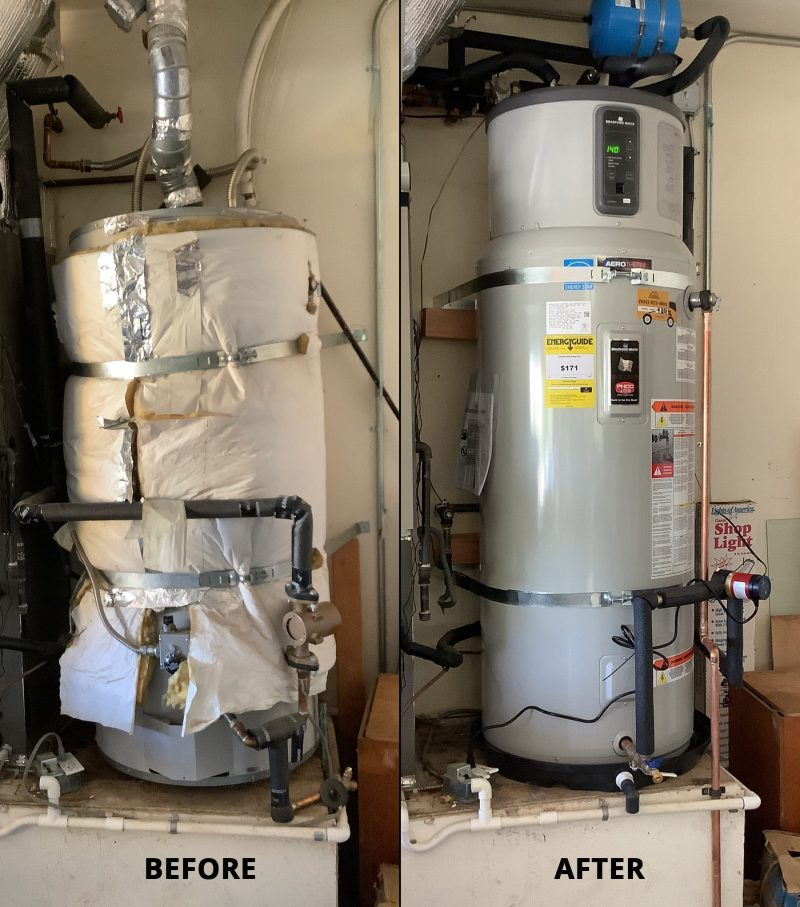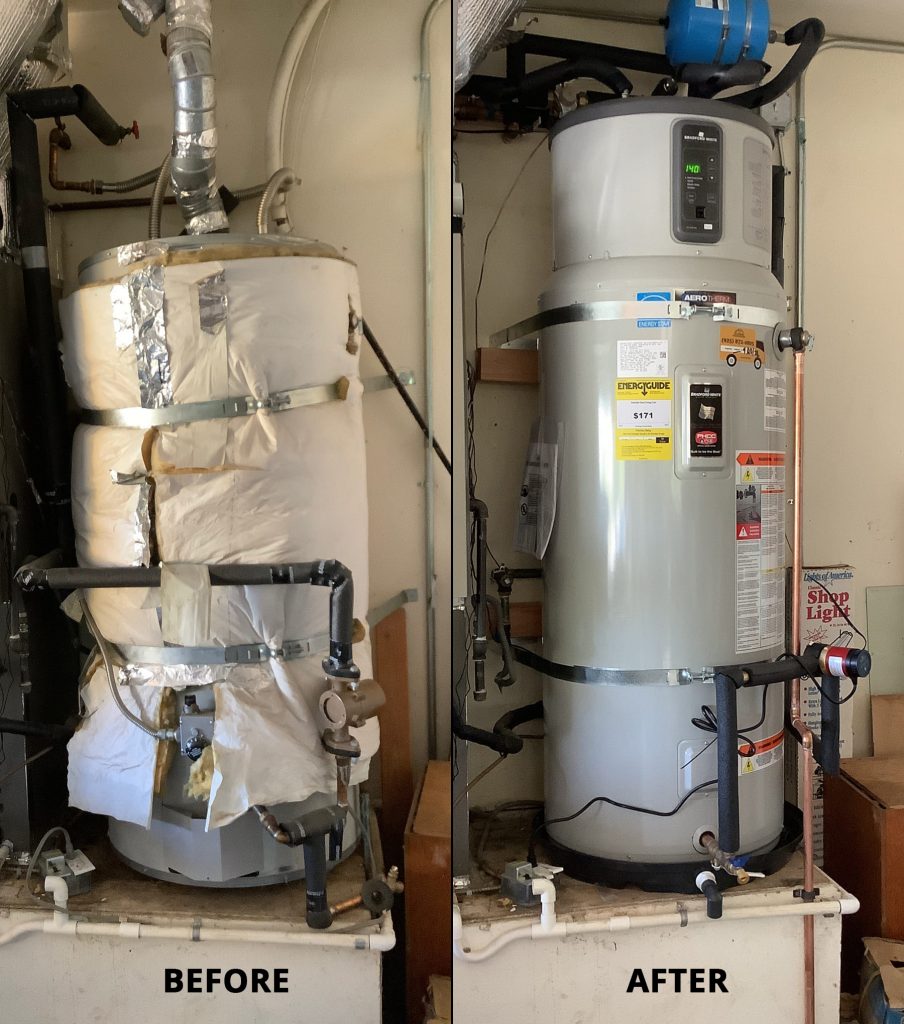 With competitive pricing, honest and friendly staff, and quick response times, Barnett Plumbing & Water Heaters is your obvious choice for water heater services. Unlike other water heater services in Milpitas, we can also offer temporary
When it comes to both repairs and replacements, we only put high-quality parts in your home. That helps you get more value out of your water heater and means it needs less work down the road.
Our Water Heater Services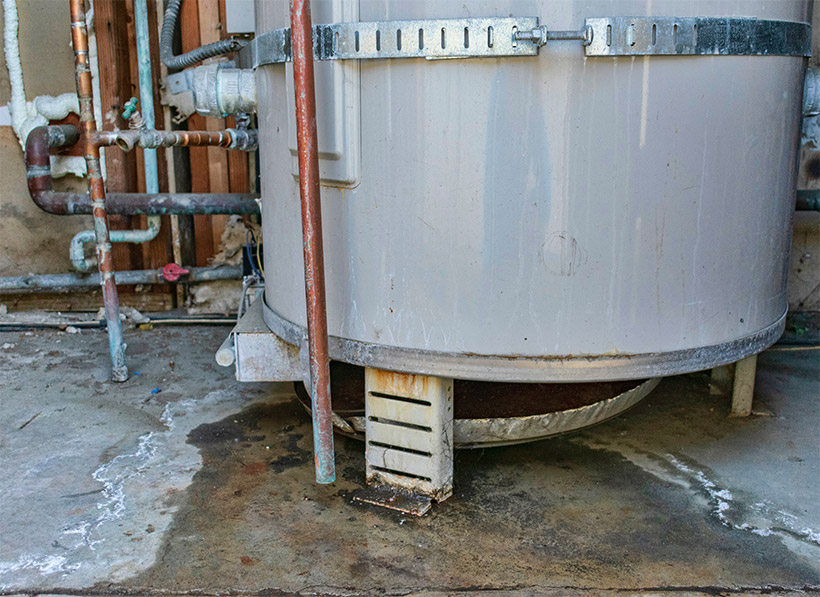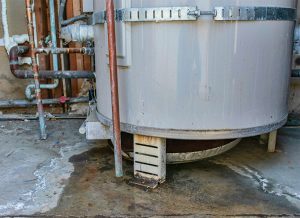 New water heater installation

Water heater maintenance, including tank flushes and preventative maintenance
Your trusted water heater service in Milpitas, CA, 95305.
Why Call Barnett Plumbing & Water Heaters for Your Water Heater Needs?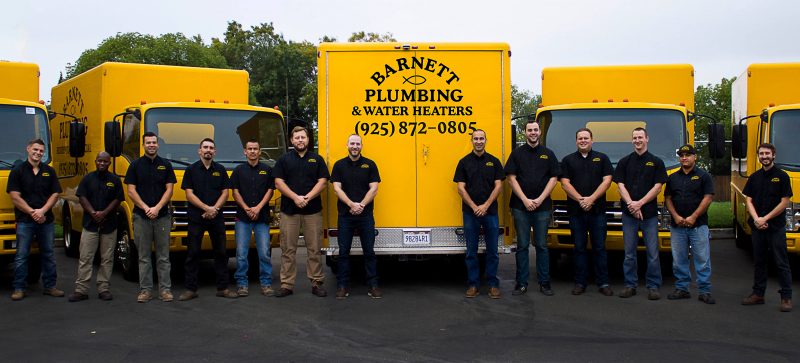 Exceptional customer service – Making our customers happy is job one. That's why we go out of our way to make sure that you're satisfied by every water heater service call. From a best in class support staff to some of the friendliest field technicians you'll ever meet, our team is here to make sure that your water heater service call goes smoothly every step of the way.
Honest & dependable policies – We are happy to offer accurate up-front pricing for all work, and we price by the job, not by the hour.
Five star rated – Check us out on any review platform, from Google to Yelp or even Nextdoor, and you'll find a five star reputation. We welcome all customer feedback because it helps us keep our services on track.
Fully equipped and trained – Our plumbers are cross trained on virtually every model and configuration of water heater, meaning it's rare when they see a problem for the first time. We also travel using fully-stocked work vehicles with all of the necessary parts for a variety of water heater repair needs, meaning that less time will be spent in transit or waiting for parts to arrive.
We offer temporary water heaters – If your water heater fails completely, we carry several replacements on hand so you won't have to wait for shipping. But if our stock runs out or you need a unique kind of water heater, we're the only plumber in Milpitas that can offer temporary water heaters to immediately restore your hot water. We are also happy to provide this service at no additional cost to you.
Water Heater Repairs
For water heater repairs, our team is fully prepared to diagnose and fix virtually any kind of unit, from any manufacturer. That includes electric water heater, natural gas water heater, and tankless water heater repairs.
By stocking most common hot water heater components, such as replacement heating elements and burner hardware, we can repair the majority of water heater issues without waiting for replacement parts to arrive. That means you can get back to having a fully-functioning water heater just a little bit faster.
Our most common water heater repairs include:
Leaking storage tank repair
Sediment flushes
Pilot-light repair
Anode rod replacement
Relief-valve repair
Vent repair
Drain valve repair
Heating element replacement
Water-heating efficiency upgrades
Thermostat repair
Heating water takes too long
Energy costs suddenly spiked
No hot water
Faulty pressure release valve
Corrosion on inside or outside of water tank
Hot water not reaching specific appliance or fixture
Poor venting or ventilation problems
And more
A water heater is a deceptively complex appliance. If yours no longer heats, heats too slowly, emits strange smells or sounds, or works inconsistently, our plumbers will get to the bottom of it. We are also the only water heater company in Danville that can offer a temporary water heater at no additional cost, so you don't have to miss out on a the perfect long-term water heater because it's not currently in stock.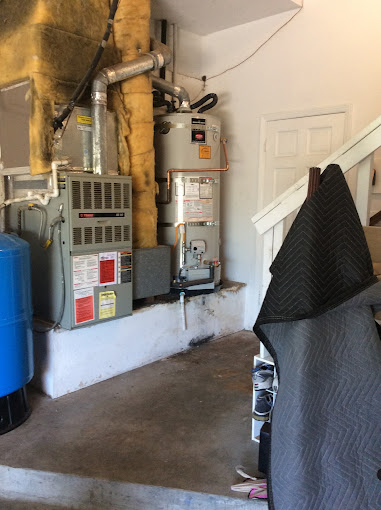 We Repair All Major Brands
A.O. Smith
Bradford White
Navien
Noritz
Rinnai
State Water Heaters
American Water Heaters
Ruud
Rheem
American Standard
Toto
Kohler
Marathon
Bosch
Moen
Lennox
And More
We also service all types of water heaters, including gas tank water heater, electric tank water heater, tankless water heater, and heat pump water heater equipment.
Frequently Asked Questions
Water Heater Replacement
For new water heater installations, we only install equipment from the most trusted brands in the industry. Our go-to brand for new water heater installation is Bradford White, due to their superior reliability, long equipment life, and dependable warranties. Bradford White units are available in several different gallon sizes and configurations, but all of them offer high efficiency and long-lasting performance.
The Heat Pump Water Heater Experts
Choosing a new water heater, one that won't cost you a fortune just to run the dishwasher, is simple. Heat pump water heaters offer fantastic energy-efficiency and reliable performance, delivering the hot water you need for a significantly reduced monthly cost. Now, with California's water heater rebate program, it is more affordable to make the wise choice of purchasing a heat pump water heater in Milpitas. The team at Barnett Plumbing & Water Heaters can help.
Schedule an in-person consultation to learn more about whether a heat pump water heater is right for your home.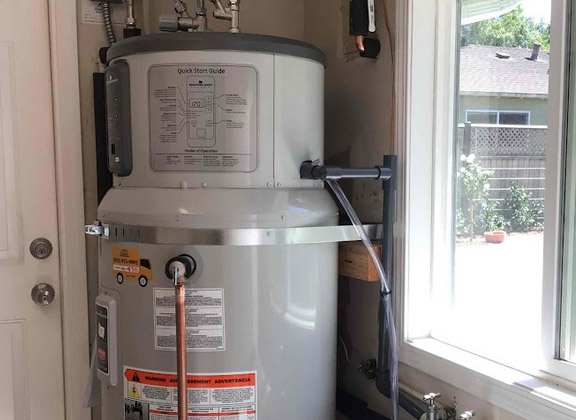 California's Water Heater Rebate
Heat pump water heaters cost much more than gas-fueled water heaters—unless you live in California. Thousands of dollars in rebates are up for grabs for families who are interested in purchasing heat pump water heaters, making them comparable in price with other options. Why not choose a more efficient water heater that will cost you less in utilities monthly when it costs the same as a model that will spend more energy?
Why Choose a Heat Pump Water Heater?
There are many benefits of heat pump water heaters that make them an ideal choice for most households. We installed AeroTherm® Series water heaters, and the benefits of them include:
Energy-efficiency: These water heaters don't need to generate heat. Instead, they use heat from the air, collect it, and warm your water with it. With this technology, heat pump water heaters significantly reduce their energy usage.

Fast recovery: You'll have hot water when you need it, as heat pump water heaters can use their backup electrical heating to deliver more hot water in times of high demand. You won't sacrifice comfort for energy efficiency.

Different modes: Choose electric-only mode if you want to increase your hot water supply quickly, or choose vacation mode if you want to save even more money while you're not in the house.

Smart control panel: Controlling the temperature of your water heater, changing between its modes and even monitoring its performance is simple with the smart control panel. Move the temperature anywhere from 100 to 140 degrees Fahrenheit.

Simple installation: Heat pump water heaters offer simple installation, including the same water and electrical hook-ups as other water heaters. This further reduces the cost of getting one installed and helps your plumber complete the process quickly.

Quiet operation: If you're not a fan of white noise, you'll be pleased to hear that heat pump water heaters are very quiet. If you need them to be even quieter you can switch over to their electric-only mode.
Water Heater Maintenance
The best way to avoid emergency repairs is to invest in preventative maintenance. Our water heater check-ups can also prolong the life of your heater and increase system efficiency, lowering your monthly utility bill.
Our maintenance services include sacrificial node replacement, checking on critical components, checking for leaks, and other steps to make sure that your water heater will keep running trouble-free for years to come.
Another critical maintenance task is to flush your water heater. Over time, sediment from your water supply builds up inside your heater, hurting overall performance, degrading components faster, and even affecting the quality of your water itself. The good news is that getting your water heater flushed is fast and easy. The bad news is that you need to do it every 1-2 years to maximize the life of your equipment.
Call now to learn more or schedule your check up.
"Matt was awesome! Super friendly and knowledgeable. He was honest and didn't try to talk me into work that didn't need to be done, like replacing my old, but still working, water heater. He addressed our leak and fixed the issue quickly. I will definitely call Barnett Plumbing in the future."